The HD series of RF atom sources is built on the extensive experience of Oxford Applied Research in supplying RF atom sources to the scientific community. The latest range of models produce a neutral beam with a extremely high atomic flux and essentially zero ion content. The atoms have merely thermal energies and yet are highly reactive. This allows the rapid growth of extremely high quality materials free of the damage and point defects associated with ion beam processing. Our sources are furthermore designed to be versatile, allowing changes between different gases and flow regimes to be accomplished simply by the user.
Application areas
The RF atom sources from Oxford Applied Research are employed in a wide variety of thin film processes, both in research and fully-automated production applications. The sources are ideal for of high quality nitrides and oxides, and substrate-cleaning using atomic hydrogen. The sources are used with great success in applications such as GaInNAs, GaN, ZnO, ultra-thin Al2O3 films and high-k dielectric oxides.
Principle of Operation
In RF atom sources a gas, such as nitrogen, is introduced into an all-ceramic cavity (discharge zone). A plasma is induced in the discharge zone by applying inductively-coupled RF excitation. The plasma dissociates the feed gas into ions and neutral reactive atoms, the latter species effusing through an apertured, plasma-confinement plate into the process chamber. Charged particles are retained within the plasma.The sources include highly efficient water cooling to ensure minimal contamination during operation. They also have plasma-enhancement features and an ultra-efficient matching network resulting in almost zero power loss at maximum operating power.
Zero Ion Content
For many applications the presence of even 0.01% ion content in the beam can so change the properties of the material being grown as to render it useless for its intended application. The HD series includes a number of unique design features which completely eliminates charged particles from the atom flux.
Beam Shaping
As various applications mature to production processes, uniformity of the atomic flux becomes a pivotal issue. All our RF sources are now available with beam shaping of the atomic flux to permit high uniformity over a large area. This technique can be adapted to offer optimum uniformity on all commercial growth systems, allowing specimens of >12" in diameter to be processed.
Click here for atom source options.
Click here for atom source specifications.
Journal publications
Browse the ever-growing Journal publications citing our enabling instruments
Atom source publications
Download the brochure in PDF format: HDseries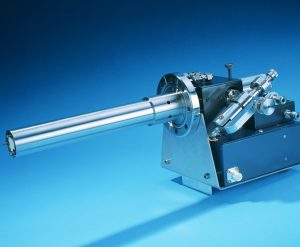 Ultra-high efficiency

High quality films

Zero ion current

Uniform coverage

Nitrides, oxides, N-doping, H atom cleaning.